Roseville Social Security Disability Lawyer
Let's Talk About Your Case.
Contact us for a free consultation
Fields marked with an 
*
 are required
Roseville Social Security Disability Attorney
If you are seeking disability insurance in Roseville, CA, you may feel like no one is in your corner. It can be difficult to navigate the government's complicated process of applying for and obtaining benefits, and if you are denied them, you might feel like there is nowhere you can turn. You do not have to give up your fight. With a trustworthy Roseville Social Security disability lawyer fighting for you, you are on the right track to achieving the outcome you deserve.
At Gade & Parekh, LLP, we have over four decades of experience helping Roseville residents qualify for benefits that improve the quality of their lives. If you are searching for an experienced SSDI attorney who takes the time to understand your specific needs, we are here for you.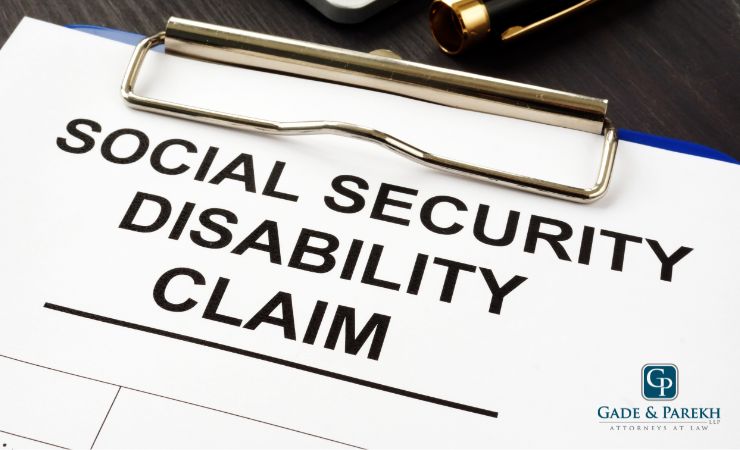 What Is Social Security Disability Insurance?
If you are no longer able to work due to a disability, you might benefit from Social Security Disability Insurance (SSDI). The SSDI program is a federal program that provides supplemental security to people who have paid taxes into the United States Social Security program and cannot continue to work because they are disabled.
How Can You Get Social Security Disability Insurance?
As important as it is, it is unfortunately quite difficult to obtain these insurance benefits, and especially hard if you try to go about obtaining them on your own. You will have to meet all of the requirements and follow all of the steps below in a timely, organized manner.
Supplemental Security Income (SSI)
As important as it is, it is unfortunately quite difficult to obtain these insurance benefits, and especially hard if you try to go about obtaining them on your own. You will have to meet all of the requirements and follow all of the steps below in a timely, organized manner.
Requirements For Social Security Disability Insurance
If you want to obtain insurance benefits after a disability prevents you from going to work, you will have to prove that:
You have not been able to work for at least 12 months
You have a condition that is expected to last for a year or more or lead to death
You have paid into the Social Security system
Your condition makes it difficult to do basic work-related actions like standing, walking, sitting, and lifting. For example, mental disorders like depression, gastrointestinal diseases like liver diseases, and sensory impairments like blindness are all examples of qualifying conditions.
Although you have to have had the medical condition for at least a year, you do not have to wait that long to get the ball rolling on applying for SSDI benefits. If you reach out to an SSDI attorney as soon as you are unable to work, they can help you confirm if you are eligible, and you can begin the process of filing your claim.
Steps Involved in Obtaining Social Security Disability Insurance
After you confirm that your condition makes you eligible to
apply for insurance benefits
, you will have to follow the steps below to try and obtain the benefits.
Gather Your Documentation In order to receive the financial benefits, you will have to prove that you have your condition and that it impairs your ability to work. This can be a tough process and involves compiling medical records about your condition and tracking down treatment histories. In addition to records that detail your condition, you will need to provide documentation of your work history. This is important because you have to be able to prove that you have a history of paying into the Social Security system.
Start Your Application You can start filling out your application online by going to the Social Security Administration's website. After you submit it, you will need to schedule an interview with a person from the Social Security office so they can get to know you and your situation better.
Complete Your Interview You can complete your interview with a representative from the office over the phone. You should be prepared for questions about your disability and about your work history. If you are working with an SSDI lawyer during this process, they can help you prepare for this conversation. If you prefer, you can also go into the Social Security office and fill out the application in person. To do this, you will need to schedule a time in advance to complete the process.
Wait for the Review of Documents After you have submitted your documents and completed your phone interview, you will have to wait for the Social Security Administration office to review your application. Depending on your situation, the office might request that you go to a medical examination to have your condition assessed further. After they are done reviewing your evidence, they will make a decision about whether or not you will get the benefits.
Appeal If Necessary If your request is approved, then you will receive a notice of approval and information about when you will start receiving your benefits. If your request is denied, it can be a disappointing blow. Although it is extremely frustrating, it is important that you do not give up during this tough time. Your SSDI lawyer can help you with the appeal process, which involves preparing a case, compiling more evidence, and representing you in front of an administrative law judge.
Why Do You Need an SSDI Lawyer?
While you do not officially need an SSDI lawyer to obtain the social security benefits that you are after, it is a wise idea to put your trust in a legal professional. The application process is quite complicated, and if you are denied the insurance, your lawyer can help you explore your options for an appeal.
Having a lawyer on your side from the very start of the process, long before the appeal, is even wiser, as this will ensure that your attorney is familiar with your situation long before they need to go before a judge.
If you are adjusting to a disability, you are likely dealing with all kinds of new stress and changes in your everyday life. Your family might also be adjusting to major changes, and the last thing that any of you need is to have to tread choppy legal waters without any help. Disability attorneys can make life easier for you and your loved ones by assisting you with all of the following services:
Give You Personalized Legal Advice: All types of law can be confusing. When you are dealing with serious, life-changing medical conditions, the last thing you need to worry about is sorting through legal jargon and unpacking what rules and regulations you need to follow.Your lawyer can answer all of your questions about the social security options. Everyone's situation is different, so it is useful to consult someone who can critically evaluate your situation and give you advice and guidance suited to your unique experience.
Track Down the Right Documents: It is not going to be easy for you to secure benefits after becoming disabled, as the Social Security office needs to make sure that you genuinely have a disability that makes you unable to do work and that you have a history of working and paying your taxes. You will need to track down all sorts of documents to prove that you have this disability and show that you have worked in the past.
Ensure Your Paperwork Is Error-Free: If you make even the tiniest mistake in your application, you can set back your application process. If you overlook something or forget to include something, your application might be denied, and then you will have to spend a great deal of time and energy trying to prove that you are eligible for benefits.Instead, if you hire a lawyer to help you with your application when you start it, they can make sure that you do not make any mistakes and that you submit a strong, polished application.
Represent You in the Appeal Process: When you are in need of financial benefits, hearing that your request was denied can turn your world upside down. However, with the right lawyer on your side, especially one who is already familiar with your case, you can make a strong argument that you do, in fact, deserve benefits.As soon as your application is denied, your lawyer can craft a strategic plan for how you will go about appealing this decision and what evidence you can use to make your case even stronger.
Expedite Your Process: Depending on how complicated your case is and how busy the Social Security office is, you might find that this process will take a long time. Time is money, and the longer you have to wait, the longer you might have to face serious financial stress. If your situation is extremely serious, your lawyer might be able to help expedite your process so you can benefit from this insurance as soon as possible.
A Compassionate SSDI Lawyer Who Fights For You
Our team of experienced attorneys here at Gade and Parekh, LLP is here to help you with any and all SSDI needs. Whether you need help understanding the intricate process and gathering effective evidence or having a legal professional crafting a strategic argument for an appeal, we can take care of your needs. We always have your interests in mind and will leave no stone unturned when compiling a personalized strategy that aims to get you the funds you deserve.
If you are ready for patient, reliable support as you go about securing benefits, contact our team today.